Vinyl Floor Installation
An inexpensive way to improve the look of your home or commercial property is to install a vinyl floor also known as sheet vinyl.   Vinyl is often glued down but there are non glued types of sheet vinyl.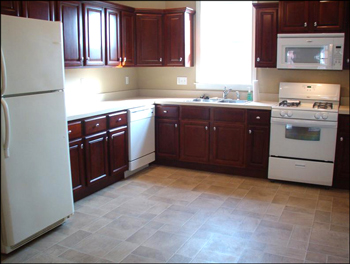 The benefits of vinyl is the durability and its ability to repel water.  The ideal locations for installing vinyl is in bath rooms, kitchens, laundry rooms, mud rooms and foyers.  When you install in the bathroom make sure to use a silicone based caulk around tubs and toilets to keep the water from getting under the vinyl and lifting the vinyl up.
Measure Twice, Cut Once…
With Vinyl Measure 3 Times
It takes skill for vinyl floor installation.   Yes if you were working with a 12′ wide room that was perfectly square and had no vents or pipes or closets or trim at door ways, install of the vinyl floor would be a snap.
First you need to determine what will be the center.  You want the pattern to be equal on all of the edges.  Meaning you do not want 2″ of pattern when you enter a room and 10″ of pattern against opposite wall.  Determining the center of the room is of up most importance.  And unless the room is perfectly square with no cabinets or closets this is not an easy task.
Next you want the look to be square and not appear to be uneven, meaning as it runs along the baseboard of a wall it is equally even for the entire run. Yes most rooms in a home are out of square.  Brad Bishop knows where to hide the imperfections of the room to give you a great looking floor.
When if comes time for the cuts you do not want to mess up.  One slip up and that imperfection can not be covered unless you buy an entire new sheet of vinyl flooring.  And you do not want that to happen.
Next you need to apply the glue and get everything to line backup the way it did when you made the cuts.  And get it to line up quickly before the glue drys.
And lastly you should use a floor roller to get rid of any bubbles and make sure floor attached to the sub floor.
Is this really what you want to try yourself?
It All Starts With A Solid Base
Another consideration is how to prepare the sub floor. If there are bad areas in your sub floor or you need new 1/4″ luan plywood installed, Brad has you covered and all for a fair price.
What Makes Brad Bishop Flooring The Best?
The reason why Brad Bishop Flooring is the best choice for a vinyl floor installer, is that you get to choose the material of your choice and find a deal at a retail store or online store of your choice and the have a local flooring installer do the installation with out the Big Store markup for installation.
Check out Brad's testimonial for a list of many satisfied customers.
Contact Brad Today For Vinyl Floor Installation
Take a look at Brad's vinyl flooring installation pictures. Then give Brad a call at 717-495-3033 or you the contact form to get in touch with Brad Bishop for your vinyl flooring installation needs in York PA and Harrisburg PA.
Checkout Our Some Of the Vinyl Floors We Have Installed
Vinyl Flooring Installation Photo Gallery 1
Vinyl Flooring Installation Photo Gallery 2