Hardwood Floor Installation
Hardwood is a common choice for flooring. Besides being beautiful to view, hardwood floors are easily repaired and they are stronger than laminates. Also, compared to laminates, damaged parts of a hardwood floor can be repaired easily versus the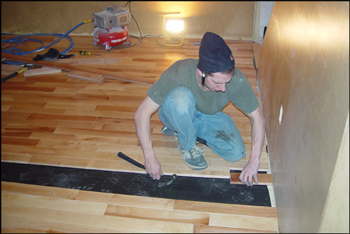 damage incurred to a laminate floor.
If you are having trouble deciding which type of flooring to choose for your home, or if you know what you want and are ready to move forward, give Brad Bishop Flooring a call. Brad Bishop can offer his hardwood flooring installation expertise to help you make the right decision when you install hardwood flooring.
Hardwood comes in several types: solid, engineered, pre-finished and site-finished. Each type has specific advantages and disadvantages. A conversation with Brad of Brad Bishop Flooring about hardwood flooring is highly recommended before you decide on the final choice of material. Brad will help you understand the different types of hardwood, the commitment to maintain the product and how, if necessary, to repair or replace damaged parts.
A Great Price For Hardwood Flooring Install
With Brad Bishop you get the best of both worlds.  You can shop around to find you best deal on the hardwood material of your dreams.  But avoid being forced by the retailer to pay their padded installation costs to make up for the great deal you found on the hardwood.
Brad Has the Hardwood Flooring Expertise You Need
In fact, hardwood floor installation should reflect industry standards. This will ensure the product performs well, is covered under the manufacturer's warranty and lasts as long as it was intended. Brad specializes in flooring installation and knows how important it is to do a good job and a job that reflects the care and love a home needs.
Checkout some of our past hardwood flooring jobs here.
Still Small Enough To Be Onsite At Every Job
As a smaller company, Brad is still on site at each project. Supervising your hardwood installation project and performing much of the installation himself.
Yes, if needed Brad can pick up the flooring for you. Bring it to the job site.  Do the install.  And haul away any of the old flooring.
Call Brad at 717-495-3033 to set an appointment of your our hardwood flooring install contact page.
Checkout Our Past Hardwood Flooring Installation Work
Hardwood Flooring Installation Photo Gallery 1