Laminate Floor Installation
The durability of installed laminate flooring is one feature of this type of flooring that draws commercial and residential property owners to install this product. Cheaper than hardwood or ceramic tile, this multi-layered product can be installed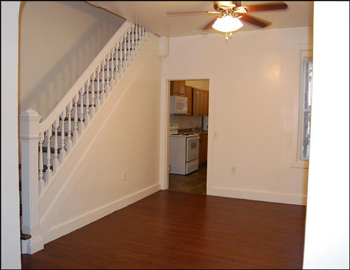 anywhere in your home or business.
Brad Bishop can handle the install of laminate flooring for you.
Four layers are used to produce laminate flooring. The bottom two layers work together to resist moisture. The third layer gives a laminate its wood or stone look and the top layer protects the laminate from wear and tear, dings and scratches.  Many of the products on the market today have lifetime residential warranties and up to 20 year commercial warranties.
Brad Bishop Has The Years Of Experience To Do The Job Right
Choosing Brad Bishop Flooring to handle this tedious project is a wise choice. Mistakes uncommon to other types of flooring can easily occur when performing laminate floor installation. Inevitably, special cuts have to happen so the laminate covers every inch of the floor. Decisions about which way to turn the grain of the wood, cutting the laminate and spacers are just a few important steps of the process.
It all starts with a solid sub floor.  If repairs are required to your sub floor Brad can handle that.
Check out the pictures for some of Brad past laminate flooring installation jobs.
No Subcontractors – Brad Is Onsite Supervising and Installing
You know when you have these big retail stores install your flooring.  They aren't doing the work, they are subcontracting the work to another company.
Brad Bishop Flooring is still small enough to be on site at each job and with the help of a few employees installing your new floor personally.
There Are Lots Of Great Choices For Laminate Flooring – Contact Brad
There are many great choice for laminate flooring on the market today.  You can get the look of hardwood with many different choices of finish.  The look of ceramic tile, you can even apply grout between the tiles.  No one will know the difference.  And it can be installed at a price lower than ceramic.
Give Brad Bishop of call today at 717-495-3033.  He will give you an estimate on the spot.  Let you know how much flooring to order.  He will pick up the flooring and install the new laminate.  And haul the old flooring and debris away.  All for a price that can't be be.
Still unsure check out Brad's testimonial page from past satisfied customers.
Checkout Our Laminate Flooring Installation Photos