Hardwood Floor Refinishing
Everyone loves hardwood flooring.  It looks great and is is a very strong selling point when you you are putting your home on the market to sell or to rent a property.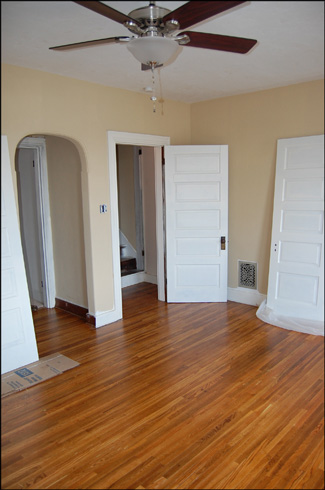 Hardwood flooring is also very durable and holds up to a lot of foot traffic.  And with a little weekly cleaning and maintenance you will be able to bring back that shine for years to come.
However over time wear and tear occurs and refinishing is in order.  That is when it is time to call a professional.  Yes you could do this job yourself, but when you calculate the tools, labor and material to do the job right, plus the mistakes you make along the way, hiring a professional to refinish your hardwood floors often seems like the best choice to make.
Brad Bishop Flooring – Yes He Can Handle Hardwood Floor Refinishing
Brad has been in the flooring business since 2003.  You want a contractor that specializes in one job and for Brad that is flooring refinishing and installation.
He has the tools including sanders and buffers to do the job right.  He knows how much to take off of the top layer.  How to make the repairs to damaged areas when you have the deep imperfections.  Yes he will remove any needed moldings and baseboards to give you that professional finish you would expect for your hardwood floors.
And if stains are needed to bring back the original look you can count on Brad to give your choices so the best stain is chosen.
When if comes times for the finish of the polyurethane Brad knows which products are best, the correct application procedure, the number of coats and the amount to apply with each coat.
You Want Hardwood Floors You Will Be Proud Of
And Brad Bishop Flooring will give you those hardwood floors.  Check out some of Brad's past hardwood floor refinishing work pictures here.  You can see that Brad knows what he is doing and takes the time to do the job right.
And after viewing Brad's hardwood refinishing pictures checkout the testimonial page from past satisfied customers.  Then give him a call at 717-495-3033 or use the contact form to set an appointment today.
Checkout Our Hardwood Floor Refinishing Photos
Hardwood Floor Refinishing Photo Gallery 1
Hardwood Floor Refinishing Photo Gallery 2