Ceramic Tile Installation In York PA and Harrisburg PA
Ceramic tiles can transform the walls or floors of any room. Sleek and clean-shaped tiles are a excellent choice to give your home a lasting, sharp makeover. Yet, ceramic tile installation can be a time-consuming, expensive project for an inexperienced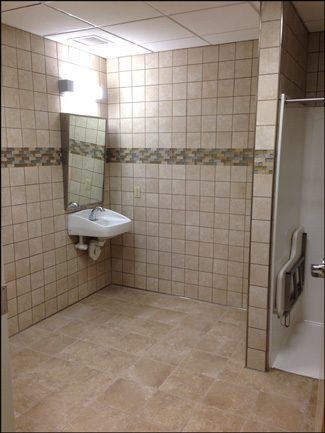 laborer. Choose Brad Bishop Flooring for tile installation. Brad Bishop will ensure your tile installation will occur quickly and efficiently by himself and his team of tile installation experts.
Brad Is Onsite Supervising and Installing
No subcontractors here.  Brad in on site at each of his jobs supervising and installing your ceramic tile himself.  Ensuring the job is done right and you are another satisfied customer.  Check out our testimonials.
Made from clay, ceramic tiles are formed, glazed then baked into a variety of looks to catch any eye. And for those consumers interested in honoring the environment, ceramic tiles are an excellent choice because they are made completely of natural ingredients.
However, an expert is recommended for this time-consuming process. Since there are several steps involved in any tile installation, your decision to take on this project should include consideration for not seriously disrupting the comfort of your home. Brad Bishop Flooring can help.  Check out our photos of past ceramic tile install jobs.
Brad and his team of ceramic tile installers can quickly transform your bathroom, shower or kitchen. It does not matter if you want floor tile installation or wall tile installation, you do want the experience Brad will offer. When installing tiles, you want the job done right.  By hiring an experienced tile installed you avoid the pit falls such as broken tiles, uneven grout lines, crooked patterns, imperfect cuts around pipes and obstacles.
Brad Bishop Flooring will discuss the tile floor installation process and and will get you a fair price right there on the spot.  Brad will help you understand the importance of using a solid sub floor material, cutting tiles to fit snug areas around pipes or toilets and of course he has the proper tools for the job.
Glass Tiles, Marble Tiles, Porcelain Tiles – Brad Can Handle That
Brad has the understanding of glass tiles, marble tiles and/or porcelain tiles.  Yes the installation process will be smooth and the time commitment will be kept to a minimum.
Inexperienced tile installers can cause harm to themselves or a home if they don't know what they are doing.
Residential or Commercial – Give Brad A Call
Residential or commercial tile work Brad is the tile installer to use.  Contact Brad to discuss your tile installation project for your home or business or call 717-495-3033 today.
Check Out Our Ceramic Tile Installation Photo Gallery
Ceramic Tile Pictures Group 1
Ceramic Tile Pictures Group 2